Here's the Roadster. From what I can tell it's the soft top Coupé and I prefer it. Still can't really see the point though.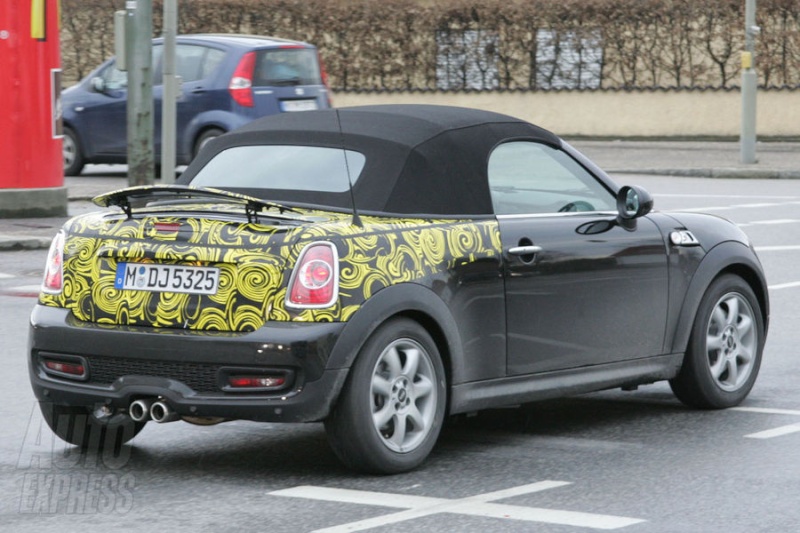 MINI's future is opening up! These are the first spy shots of the head-turning new Roadster, which goes on sale early next year.
First revealed as a concept at the 2009 Frankfurt Motor Show – alongside a hardtop Coupe version which arrives later this year – the Roadster has been translated unchanged from the show stand to the road as revealed by this prototype caught testing in Germany.
Like the Countryman and Paceman, it takes MINI further into new territory, giving drivers in the market for the Mazda MX-5 another highly desirable model to consider with a sportier look and a more focused driving experience.
Key styling details include the lower, wider and longer body and the pop-up rear spoiler. The front end shares much with the Cooper S, such as its bold headlights and chrome grille. Below those lies a wider, more aggressive splitter, while the A-pillars are steeply raked to give a more aerodynamic look. 

There's no metal hood – instead, the covering is made of fabric, and it's set to be manually operated. This is a much lighter solution to a fully electric mechanism. Much like an MX-5's hood, it is folded simply and neatly behind the occupants' heads.
The arrangement makes the Roadster surprisingly practical. Regardless of whether the roof is raised or lowered, there are 250 litres of luggage space. 

Under the bonnet lies the same engine as in the Cooper S – a 175bhp 1.6-litre turbocharged four-cylinder petrol unit. It produces 240Nm of torque, but can generate 260Nm for short periods during overboost. 

While official performance figures have yet to be released, we expect the Roadster to cover 0-62mph in seven seconds and accelerate on to 140mph.
Sales will kick off in early 2012 with a price tag of around £18,000, but expect MINI to officially reveal the production version before the end of the year.
Read more: http://www.autoexpress.co.uk/news/autoexpressnews/263713/mini_roadster_spied.html#ixzz1DmGOV6q2