2013: enter the Mk3 Mini hatchback and family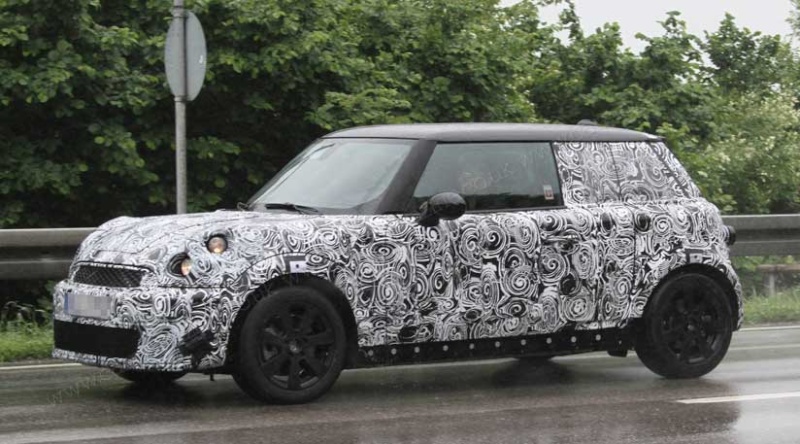 The first of the UKL1-based Minis arrives in 2013, when the Mk3 Mini hatchback is launched. Our spy shots show a heavily-disguised engineering prototype of the three-door hatch undergoing initial testing.
After the three-door hatch debuts, the UKL1 model avalanche commences with a five-door hatchback proposed for 2014, adding rear doors to the standard Mini hatchback silhouette for the first time.
2015 sees the arrival of the Mini cabriolet. 2015 would also see a new Clubman 410 estate (the '410' indicated the vehicle's length in centimetres - about 140mm longer than the current Clubman). At this early stage of development BMW is still unsure if it will retain the twin back doors or the assymetric side doors of the existing car. A proposal for an all-wheel-drive Clubman is also being considered, in addition to the standard car.
2016 sees the arrival of the 'mini-Mini'. Similar in concept to the 2011 Mini Rocketman concept car, the Mini 310 will be a front-drive city car, 3.1m long (623mm shorter than the current Mini hatchback, and 100mm longer than the Toyota iQ/Aston Martin Cygnet).
Joining the Mini 310 will be the Mini MAT, a provisional codename for a five-door'Multi Activity Tourer', also known informally as the MiniVan, and possibly to wear the Mini Traveller nameplate when launched. This car would share optional four-wheel-drive and larger dimensions with the Clubman and 2017 Countryman,along with greater accessibility thanks to sliding side doors.
http://www.carmagazine.co.uk/Secret-new-cars/Search-Results/Spyshots/Mini-hatchback-2013-the-next-generation-spied/