Right well had the opportunity to clean a my Mums friends car so thought why not.
When it arrived I realized what her job was and my heart sank seeing as I had offered to do the interior as well!

I started off by laying down some water across the car to rinse the big pieces of dirt. I then scrubbed the arches and used some Briteclean X101.
Next stage was to moved on to the wheels using Autobrite - Purple Rain. This helped to remove some of the mess along with a wheel brush and a detailing brush. These were then rinsed. (Wheel cleaner product was also used but cannot remember which - had so much to do!)
Rinse:

Before:

After:
I then took some pictures (Phone Quality) and the car really needed claying.
Before this tho, I hit the car with some snow foam. Wasn't as thick as the MagiFoam i used before so certainly returning to that product. Or perhaps I didn't have the settings at the best they could have been, only snow foamed twice so I need to get the hang of it.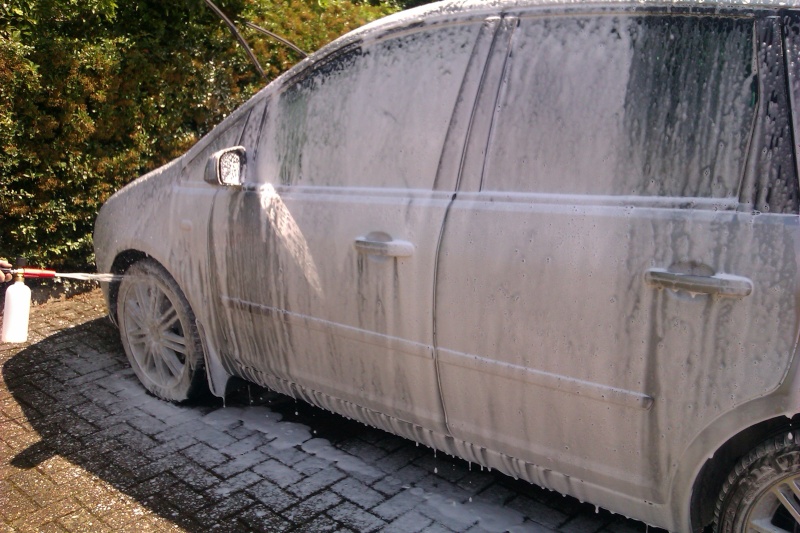 I then went on to wash using noodle mits for lower doors and lambs wool mits for the rest of the bodywork with banana gloss shampoo
.
Decided not to really bother drying as was claying next so off I went with the megs clay bar and serious performance quick detailer. Car was then rinsed again - this was a beast of a job and took me what felt like forever!
I then went on to apply Euphoria AIO and Autoglym HD Wax. Dilute to Suit was then used on the Tyres and exterior trim. - Last shot I have of the exterior:

From this image it is clear that some panels have been resprayed. It was then that I called her up and told her the interior still had to be cleaned and that it was up to her if I still went ahead with it - she was going to be picking her up in an hour! Reply was to just do your best, not to worry! So I carried on and did what i could. The boot was full of dog hairs but she did say she had 4 of her own!
After:
I also cleaned the rest of the interior using Fab Shampoo which removed a stain that had been bugging her
and some Briteclean X101 on the plastics. Once wiped over with a damp cloth, Pink Sheen was applied and got to say, I do love the smell :thumb:
To finish off the car was sprayed with air freshener and deodorizer and left with a new cali scents.
Total Time taken - Six Hours. Sun Burn to show for it as well
Probably missed loads off but hope you enjoyed the read